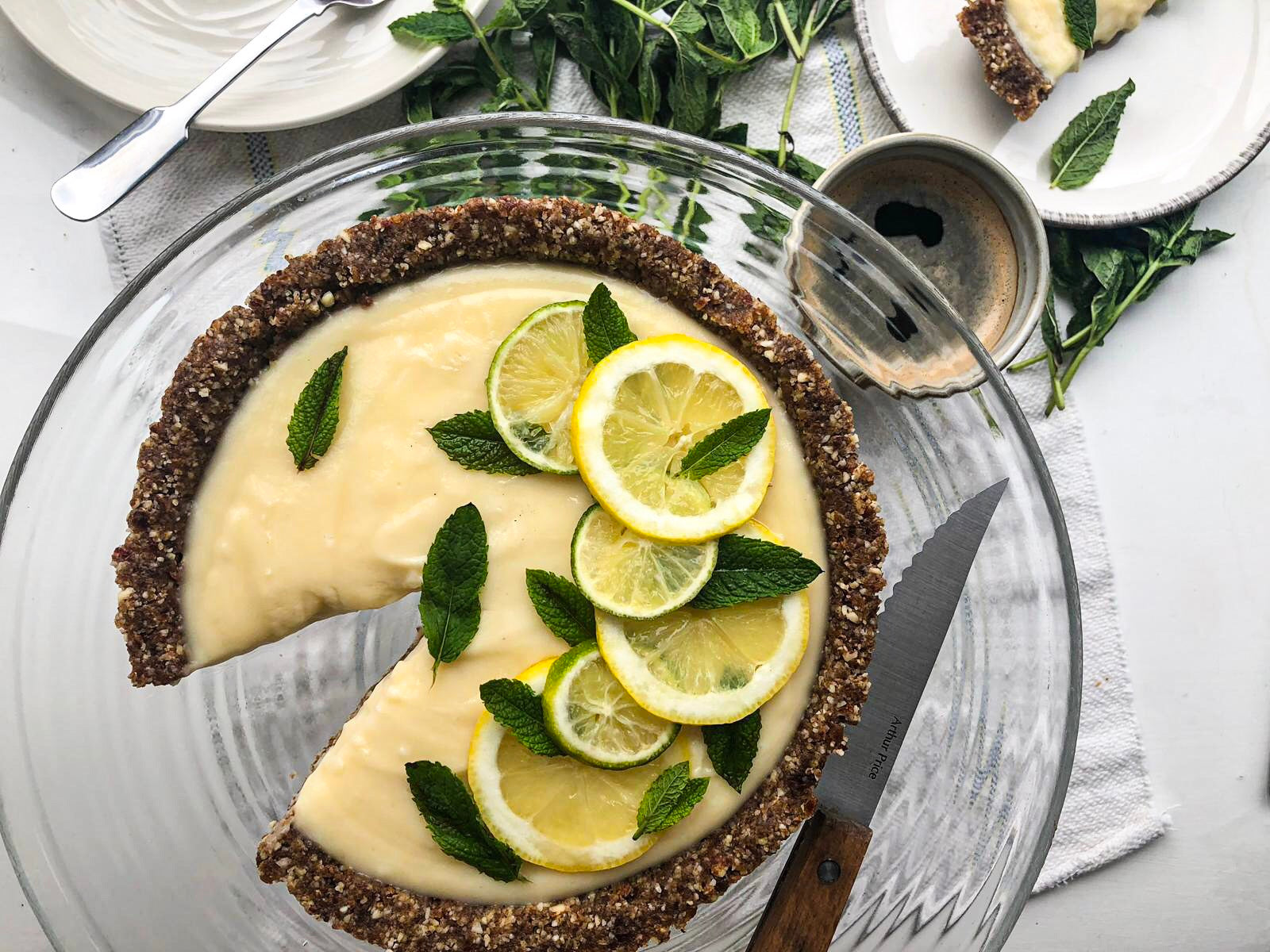 All-Year-Round Lemon & Lime Curd Tart
Ingredients
Crust
2 cups pecans and almonds

1 cup pitted medjool dates

3 tbsp coconut oil

Parchment/baking paper
Filling
1 400ml can coconut milk

3/4 cup sugar

1 cup plant milk (This recipe uses coconut, cow's milk can also be used)

1 tsp vanilla extract

5 tbsp cornflour

1 Jar of The Cherry Tree Lemon and Lime curd
Garnish
1 Handful of fresh mint

½ A Lime

½ A Lemon
Method
Crust
Add the nuts, dates and melted coconut oil into a food processor and pulse until well incorporated. The mixture should stick together when pinched.

Line the bottom of a tart case with oiled parchment paper.

Press the crust evenly into your pan and refrigerate it for about 30 minutes (alternately, freeze it for 15 minutes). 
Filling
Add coconut milk and sugar to a small saucepan and set over a medium heat. Bring to the boil for 7-10 minutes, until the mixture turns darker and slightly thicker. Reduce heat to a gentle simmer.

In a jug, mix plant milk (coconut milk, or cow's milk if you prefer) with cornflour and vanilla.

While the pan is still simmering, pour in the cornflour mix and stir well.

After 2 minutes the mixture should start to thicken (it will thicken more as it cools).

Add the curd and allow to cool for 5 mins in the pan.

Pour filling into tart shells and set aside in the fridge to set.
Garnish
Slice the lemon and lime thinly and arrange on top of the tart (use image on recipe card for guidance).

Wash and cut the mint and sprinkle onto the finished tart