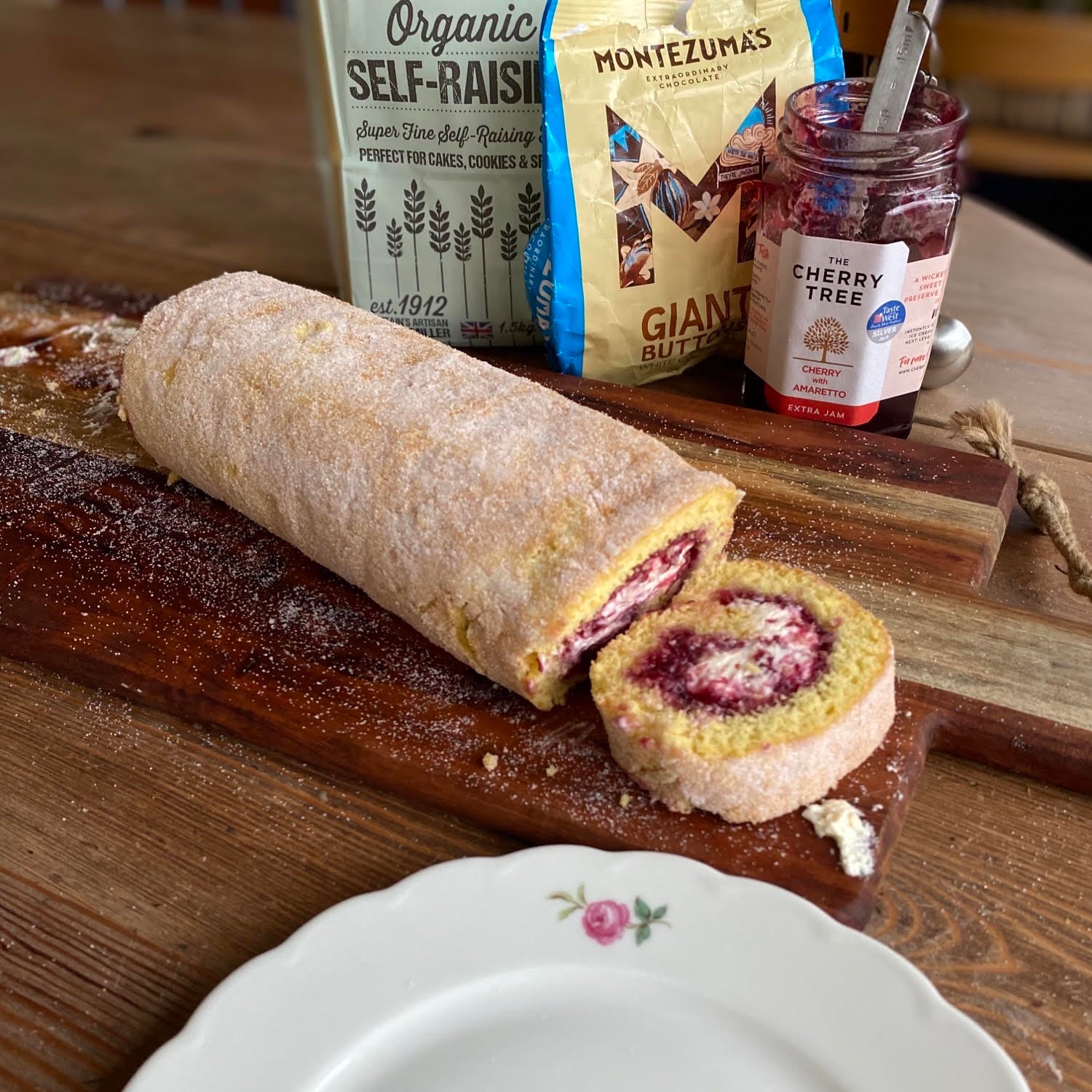 Cherry & Amaretto Swiss Roll with White Chocolate Cream
Ingredients
4 eggs

110g/4oz caster sugar

1 tsp vanilla paste

105g/3½oz self raising flour

150ml/ ¼ pt double cream

55g/2oz white chocolate, melted
Method
Preheat oven to 160ºC fan/350ºF/GM4/AGA-baking oven. Line a 26cm x 36cm (14" x 10") tin with baking parchment.

Whisk the eggs, sugar and vanilla paste for about 10-12mins until pale and fluffy.

Sieve the flour lightly over the mixture and gently fold in using a large metal spoon. I turn the bowl at the same time as I fold until I can't see anymore flour. Go gently as you don't want to knock out all of the air you've whisked in.

Pour the mixture into the prepared tin and bake for 12-15mins. Aga – baking oven – on top of the cool tray for 12mins on the middle shelf, turn the sponge around halfway through. Roasting oven – bake under the cool tray for 12mins and again turning round halfway through. The sponge should be golden and springy to the touch.

Place a sheet of baking parchment on the work surface and sprinkle it all over with caster sugar. Turn the warm sponge out on to the sugared paper and peel away the paper the sponge was baked on. Score a line about 5cm/2" all along the end you want to roll from, this makes it so much easier to roll but be very careful not to slice through completely. Starting at one end using the paper to help you, roll up the sponge, keep wrapped in the paper. Set aside to cool.

Lightly whip the cream and stir the melted chocolate through it.

Unroll the sponge, spread the jam all over it and then spread the cream on top. Roll again and keep wrapped in the paper until you want to serve it. This will last for 2 days if it's wrapped up airtight. Just sprinkle with a little extra sugar before slicing.