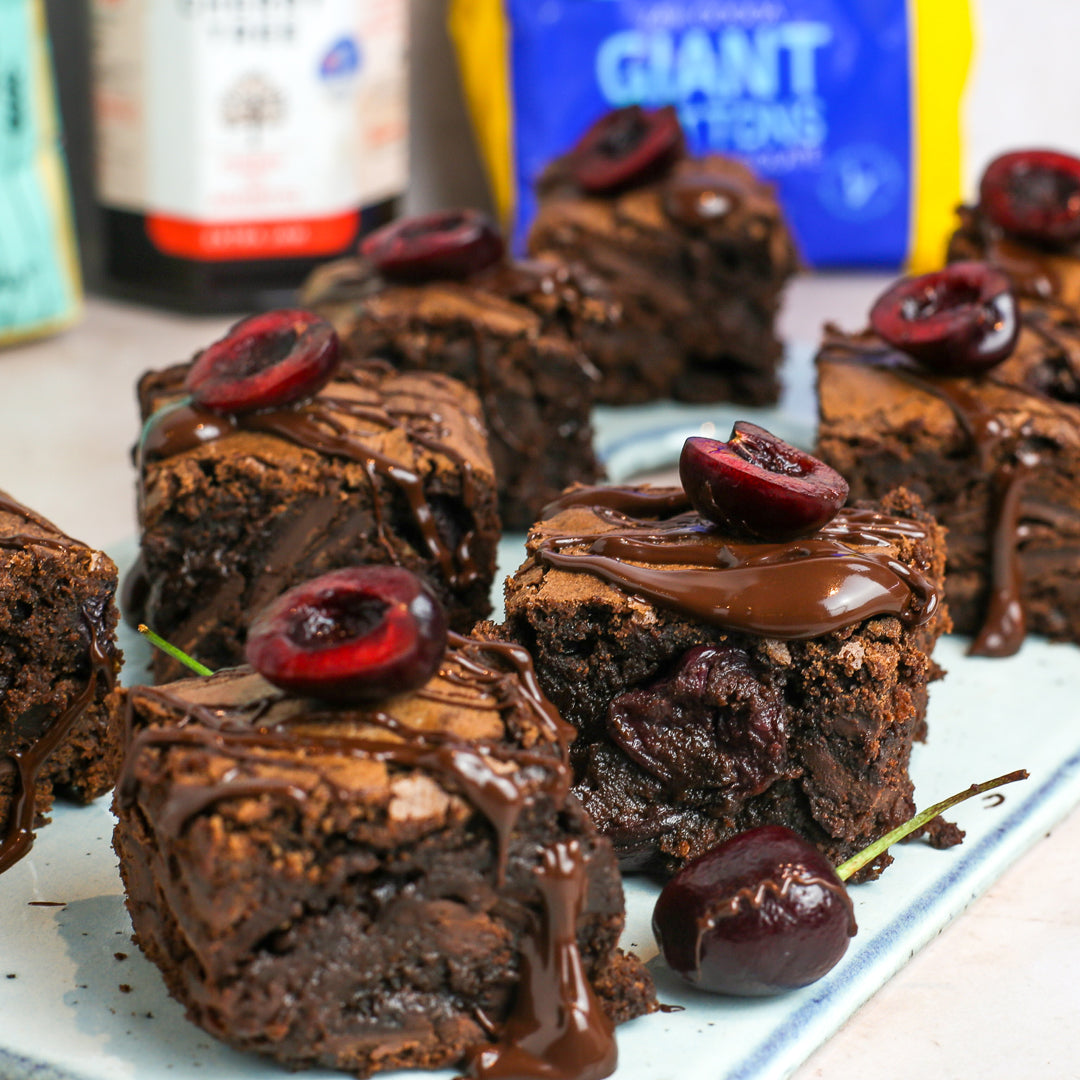 Cherry Chocolate Brownies
Ingredients
120g Matthews Cotswold Plain Flour

150g unsalted butter, softened, plus extra for greasing

300g caster sugar

3 eggs, at room temperature

70g cocoa powder

½ tsp baking powder

50ml amaretto, optional

180g Montezuma's Milk or Dark Chocolate Buttons, plus extra for decoration

200g fresh cherries, pitted and quartered, plus extra for decoration
Method
Preheat the oven to 180°C and generously grease a square 8"x 8" baking tin.

In a medium saucepan, melt 100g caster sugar with the butter on low heat. Continue to stir until the butter has melted then set aside and allow to cool.

In a large mixing bowl, add the eggs and the remaining 200g sugar. Using an electric whisk or stand mixer, whisk the eggs until pale, light and fluffy – around 5 minutes.

Slowly pour in the melted butter mixture while whisking until fully incorporated.

In a separate bowl, mix the flour, cocoa powder and baking powder together.

Add the dry ingredients to the wet ingredients by folding the mixture until just combined.

Add in the cherries, chocolate buttons and amaretto, if using, then mix until they are evenly incorporated.

Pour half the batter into the baking tin and then add the cherry jam in blobs. Using a spoon or knife, swirl the jam into the batter then pour the rest of the mixture on top.

Bake for 35-40 minutes, until an inserted skewer comes out clean.

Set aside to cool completely; then remove from the tin.

Cut up into 16 brownies and drizzle with melted chocolate and decorate with fresh cherries. Enjoy!