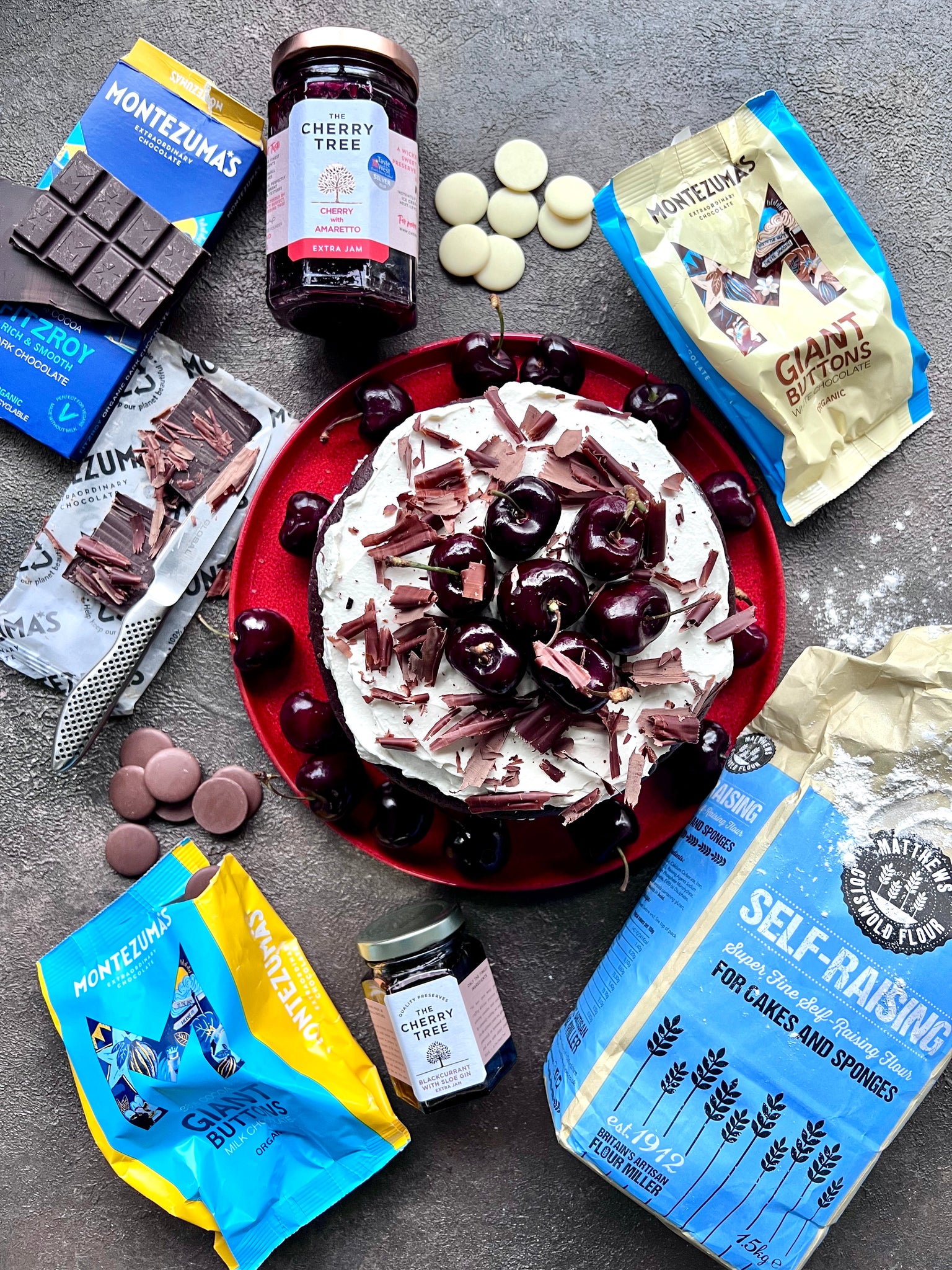 Ingredients
Cake ingredients
250g unsalted butter, room temperature

180g @montezumaschocs 74% cocoa buttons

2 espressos, made up to 350ml with boiling water

250g caster sugar

2 large free-range eggs

2 tsp vanilla paste

240g @cotswoldflour self-raising flour

40g cocoa powder

¼ tsp sea salt

1 tsp baking powder

80g @montezumaschocs milk chocolate buttons
2 x 18cm greased baking tins (lined, with parchment extending 2cm above rim) White chocolate mascarpone cream
40g @montezumaschocs white chocolate buttons

250g mascarpone

250g whipping cream

1 tsp vanilla paste

Fresh cherries
Method
Preheat oven to 170°C/150°C/Gas Mark 3.

Place the butter, 74% cocoa buttons, espresso and boiling water into large heatproof bowl and mix until chocolate has melted. Whisk in the sugar. Add the eggs and vanilla and whisk until smooth.

Sift flour, cocoa powder and salt into a bowl and slowly whisk into the chocolate mix. Add the milk chocolate buttons and stir through.

Pour the mixture equally into the cake tins and bake for 45 minutes (or until cake is cooked). Leave cake to cool for 30 minutes before removing from the tin.

Melt the white chocolate buttons in a small heatproof suspended over a pan of gently simmering water. Remove bowl and leave to cool slightly.

Place whipping cream in bowl of standard mixer (or whisk by hand). Gently beat until the cream starts to thicken, then add the mascarpone and vanilla, and beat until combined (it should still be quite loose). Pour in the melted white chocolate and mix again until soft peaks are formed.

When the cakes are cool, spread a thick layer of Cherry with Amaretto Extra Jam over the bottom cake, then spoon over half of chocolate mascarpone cream. Top with the second cake add the rest of the mascarpone cream.

Decorate with fresh cherries and grated chocolate, then indulge yourselves.