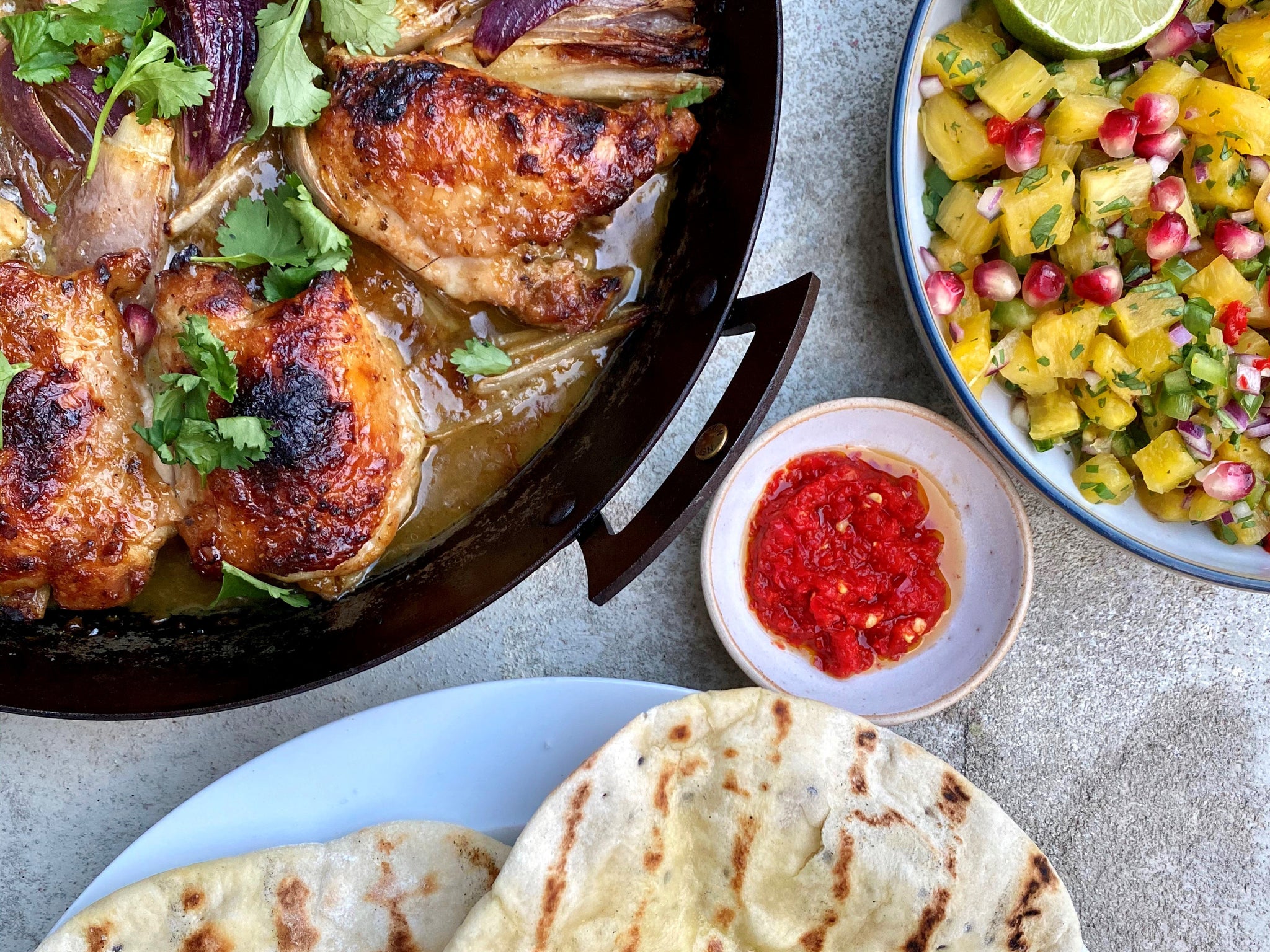 Fruity Chicken Thighs with Pineapple Salsa
Ingredients
Chicken
8 free-range chicken thighs (bone in, skin on)⁠

Half to two-thirds of a jar of The Cherry Tree Chilli & Pineapple Chutney ⁠

4 banana shallots (or 2 red onions), sliced into quarters⁠

2 tbsp olive oil⁠

Sea salt and black pepper⁠

Coriander leaves (half a small bunch)⁠
Pineapple salsa⁠
1 small pineapple, diced⁠

2 fresh red or green chillies, finely chopped⁠

1 red, yellow or green pepper, finely chopped⁠

½ red onion, rinsed in cold water, finely chopped⁠

Small bunch of coriander, leaves chopped (stems too, if you wish)⁠

½ pomegranate (kernels)⁠

1 or 2 limes, zest and juice⁠

½ tsp sea salt ⁠

Olive oil⁠
Method
Mix the chutney and olive oil in a non-reactive bowl with ½ tsp sea salt and a generous grind of black pepper, then add the chicken and mix thoroughly. Leave to marinate for a couple of hours (ideally overnight).⁠

Heat the oven to 190ºC / 160ºC fan.

Place the chicken and onion in an oven-proof dish large enough to accommodate the chicken in one layer. Drizzle the chicken with a little more olive oil.⁠

Roast for 45 minutes, until the chicken is golden and cooked thoroughly.⁠ Sprinkle with coriander.

While the chicken is cooking, mix the chutney ingredients together, season to taste. To serve Serve with pitta or flatbreads and a green salad.