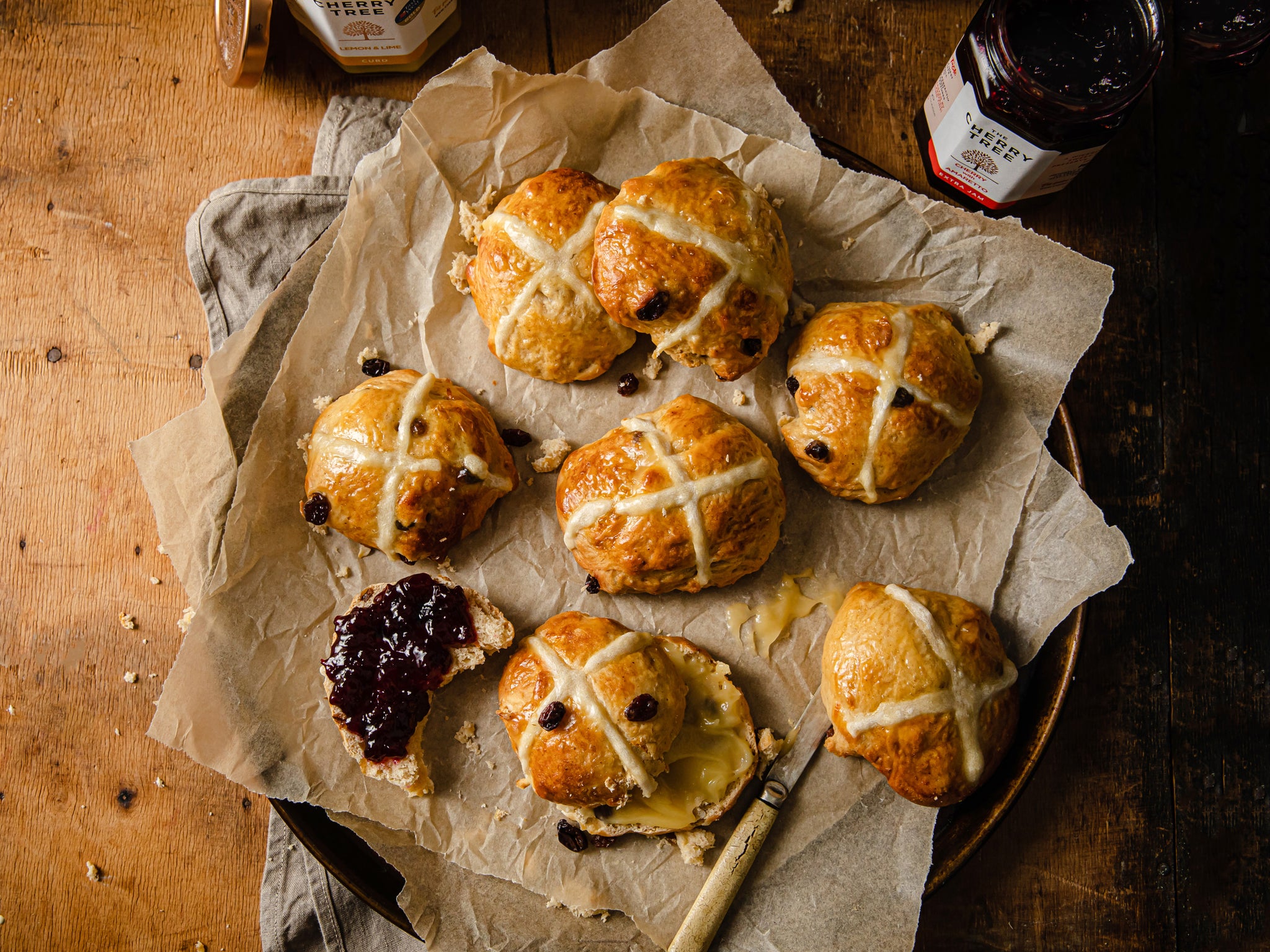 Ingredients
Base
140ml full fat milk

25g unsalted butter, cubed

250g strong white bread flour

⅓ tsp salt

½ tsp mixed spice

½ tsp cinnamon

35g golden caster sugar

1 tsp fast action yeast

⅔ large egg, beaten (use the rest as a glaze)

40g raisins

Zest of ½ orange

2 tbsp The Cherry Tree Lemon Curd
For the cross
35g plain flour, plus extra for dusting

Water
For the glaze
⅓ large egg (remainder from the batter)

1-2 tbsp The Cherry Tree Lemon Curd
Method
Add the milk to a small saucepan and bring to just under boiling. Remove from the heat, add the butter. Set aside until it melts.

Meanwhile, mix the flour, salt, spices and sugar together in a large bowl. Make a well in the middle and add the yeast. Pour the warm milk and butter mix into the well and leave to stand for 3 minutes until you can see bubbles. This allows the yeast to activate.

Add the egg, raisins, orange zest and lemon curd. Mix to combine.

Tip the dough onto a floured surface. Knead until smooth and elastic (at least 6-8 minutes). NOTE this length of time is essential if you want soft and fluffy hot cross buns. Any less and they will be dense. Transfer to a lightly oiled bowl and cover with oiled clingfilm. Place somewhere warm for 1.5 hours to allow the dough to rise.

Meanwhile, line 2 baking sheets with parchment and grease with a little oil. Divide the dough into 8 equal portions and roll into balls. Place each about 2 cm apart on the baking sheets. Flatten slightly then lightly cover with oiled cling film (don't wrap) and leave to prove for about 1 hour, or until doubled in size.

Preheat the oven to 200˚C / 180˚C fan. Brush the Fruity Hot Cross Buns with egg glaze.

To make the crosses, put the plain flour in a small bowl and mix in about 2 tbsp water. Do this 1 tbsp at a time, until you have a thick paste (adjust the water accordingly). Spoon into a disposable piping bag and snip off the end. Pipe a cross on top of each bun.

Bake for about 15 minutes, or until golden. Place on a wire rack and whilst still warm, brush with the lemon curd. Allow to fully cool.
TROUBLESHOOTING TOP TIP - Dense hot cross buns are often a result of not kneading the dough for long enough. Make sure there is enough tension in your dough by stretching it too as you kneed it.