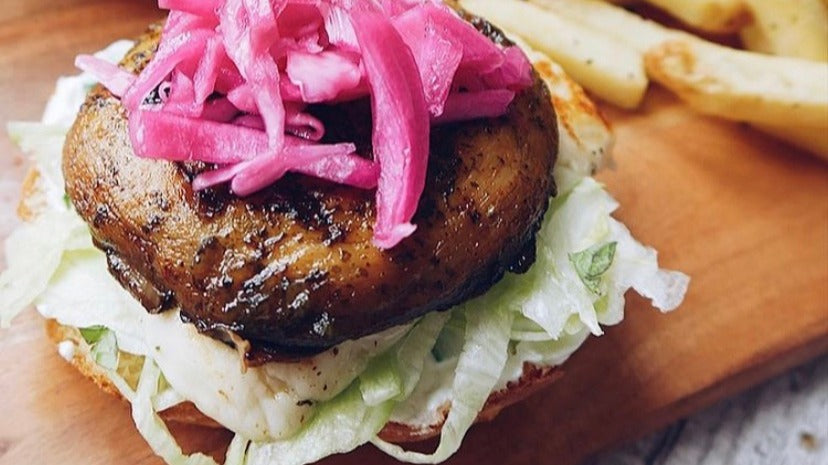 Green Chilli, Coriander & Mint Glazed Mushroom Burgers with Tzatziki
Ingredients
Cherry Tree Green Chilli, Coriander & Mint Chutney

4 large portobello mushrooms

1 block of Halloumi

4 brioche burger buns

Shredded iceberg lettuce

Pickled red cabbage

200g greek yoghurt

½ a cucumber

1 clove of garlic, minced

1 tbsp olive oil

A squeeze of lemon

Salt and pepper
Method
Remove the stalks from the mushrooms and slightly score the top. Place top down on a baking tray and brush with the chutney. Bake in the oven on 180° for about 30 minutes (It may vary depending on the size of the mushrooms). Halfway through the cooking time carefully drain away the liquid, flip the mushrooms and glaze again with a little more of the chutney.

While the mushrooms are cooking make the tzatziki. Grate the cucumber and place in a muslin or clean tea towel and squeeze out as much liquid as you can. In a bowl mix the cucumber, Greek yoghurt, olive oil, a squeeze of lemon and the seasoning. Mix well and adjust to taste.

Take your brioche buns and spoon some tzatziki on to the bottom bun. Add some shredded lettuce and set aside. Slice the halloumi into four steaks. Heat some oil in a pain.

Add the halloumi and cook for a couple of minutes each side. Add to the bun on top of the lettuce

Remove the mushrooms from the oven and place in each bun on top of the halloumi. Add some pickled red cabbage and the top buns and serve with fries and side salad.