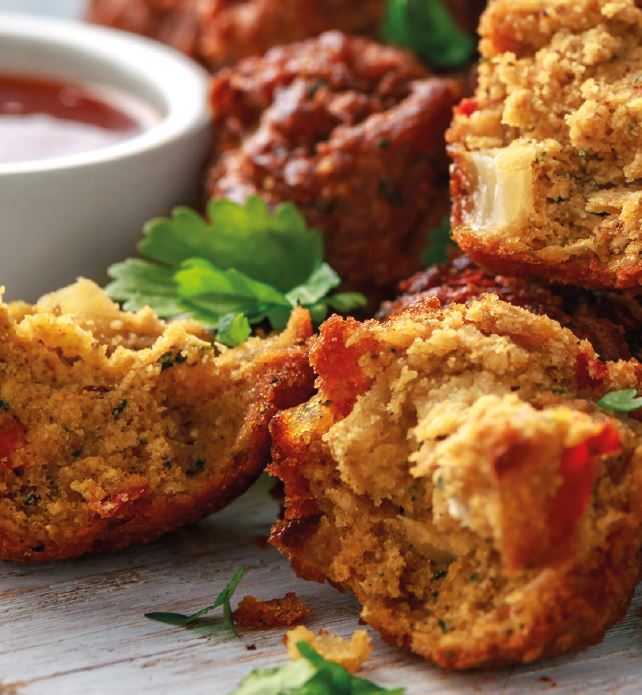 Hot Carrot & Coriander Pakora
Ingredients
1 cup (128g/4.5oz) gram flour

¼ cup (32g/1.13oz) rice flour or corn flour

½ to 1 tsp red chilli powder (adjust according to desired heat)

1 tsp garam masala

1 tbsp coriander powder

1 tbsp cumin powder

¼ tsp bicarbonate of soda

1 tsp salt

150g spinach, cut into thin strips

2 medium onions, finely sliced

1 – 2 green chillies, finely sliced (optional)

½ cup (120g/125ml) The Cherry Tree Hot Carrot & Coriander Chutney

½ cup (120g/125ml) cold water

Vegetable oil, for frying
Method
Mix the two flours with the spices, bicarbonate of soda and salt.

Add the prepared spinach, onions and chillies (if using) and toss in the mixture.

Add The Cherry Tree Hot Carrot & Coriander Chutney and mix thoroughly, get your hands in there, mixing well.

Slowly add the water, mixing until the batter starts to just hold together.

Heat oil to 180°C in a deep pan, enough to cover the Pakoras. Take approximately 1 tbsp of the Pakora batter, flatten slightly and drop into the oil.

Fry for approximately 4 – 6 minutes until golden and crispy. Repeat, frying in batches.

Drain on kitchen paper.