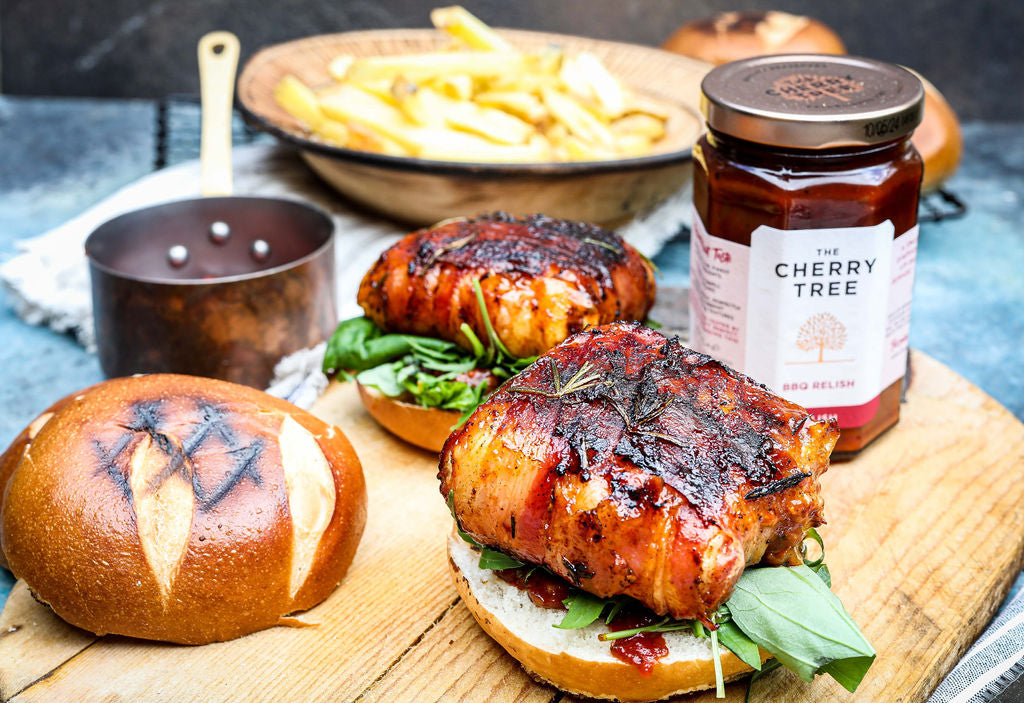 Ingredients
2 chicken breasts

12 slices of pancetta

6-8 basil leaves

100g sliced mozzarella

2 tbsp The Cherry Tree BBQ Relish – plus extra for glazing

1 tbsp olive oil

Sprig of rosemary

2 burger rolls

Handful of rocket
Method
While your BBQ grill is preheating flatten your chicken breasts with a meat hammer or rolling pin into an escalope. Then arrange a few slices of mozzarella, torn basil leaves and a tablespoon of The Cherry Tree BBQ Relish on the top of each. Roll over to form a patty shape and then wrap neatly with sliced pancetta to make a hunter's chicken parcel. Rotate by 90º and repeat with more pancetta to keep the chicken moist when grilling and the melted mozzarella from escaping.

Brush both burgers with a little oil and sprinkle with rosemary – cook for 12-15 minutes. Use a meat probe to test when the internal temp reaches 73ºC. Glaze with extra BBQ Relish whilst cooking for extra spicy sweetness.

Lightly toast your bread rolls and spread with The Cherry Tree Smokey Tomato & Garlic Chutney, garnish with rocket and more basil leaves.

Serve warm with chips on the side.