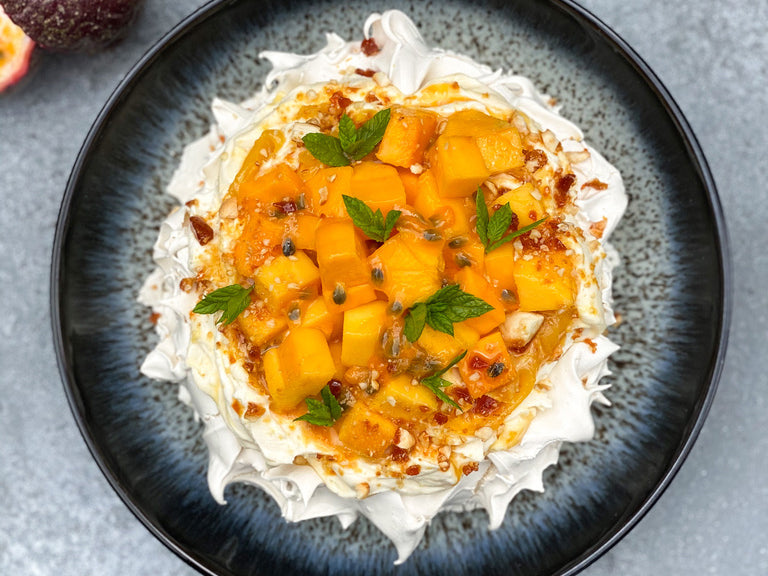 Passion Fruit Curd and Mango Pavlova
Ingredients
Meringue
125g egg whites (roughly from 3 large eggs)

125g caster sugar

100g caster sugar
Praline cream
30g flaked almonds

40g caster sugar

2 tbsp water

400ml double cream

250g mascarpone

1 ripe mango, peeled and cut into 1cm cubes

2 passion fruits (ripe ones have wrinkly skin)
Method
Preheat the oven to 170°C/150°C fan.

Spread out all the almonds on a baking tray and roast for 7–8 minutes, until golden. Set aside to cool.

Reduce the oven to 120°C/100°C Fan and cover a large baking tray with baking parchment.

Pour water into a small saucepan to a quarter full. Place a steamer basket inside (the water should be below the base of the steamer), bring the water to a simmer.

Place the egg whites and sugar in the bowl of an electric mixer and whisk to combine. Set the bowl in the steamer basket and use an electric whisk to whisk the sugar and eggs until warm and frothy (test the sugar has melted by rubbing it between your fingers; if it feels grainy, continue whisking for another minute). Transfer the bowl to the stand mixer, and continue to whisk for about 5 minutes until the meringue has cooled and is stiff and glossy (the bowl may still feel warm).

Spread the meringue into a circle, creating a 3 cm rim around the edge. Bake for 3 hours, then turn off the oven and leave the meringue inside to cool (overnight is fine).

Place the almonds on a parchment-lined baking tray. Put the sugar and water into a small pan and place over a medium-low heat, stirring until the sugar has melted. Cook until the sugar caramelises to a dark golden brown. Pour the caramel over the nuts and leave to cool, then crush in a pestle and mortar.

Put the cream and mascarpone in a large bowl and whisk 1 minute, until soft peaks form (under whisking is better here). Fold through the praline, and spoon over the meringue. Dollop on the Passion Fruit Curd, and swirl through the mascarpone cream. Top with the mango and passion fruit, sprinkle with any remaining praline, and serve.