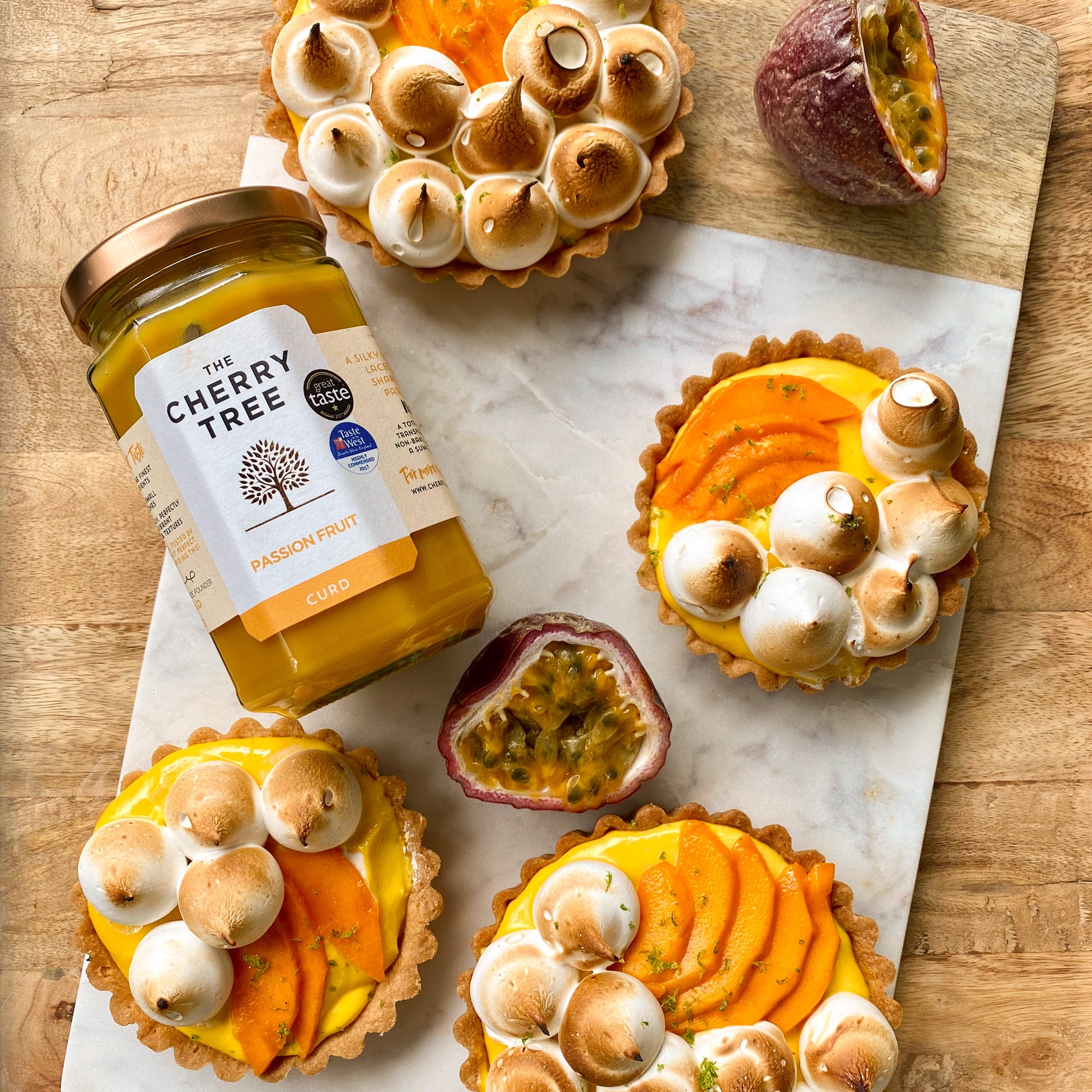 Passion Fruit Curd, Mango & Lime Tarts
Ingredients
Meringue
100 g egg whites (from 3 medium eggs)

180 g caster sugar

1/8 tsp sea salt

1 tsp vanilla paste
Mascarpone passionfruit curd
2 Alphonso mangoes

150g mascarpone

Zest and juice from ½ lime

1 passionfruit

Physalis (optional)
Method
Line 4 individual loose-bottom baking tins (10-12cm) or 1 larger (20cm) tin with the pastry. Prick the base, line with baking parchment, fill with baking beans, and blind bake at 180 degrees C for 15 mins. Remove the baking beans and parchment, return to the oven for another 6 mins or until the pastry is golden and cooked through. Leave to cool completely.

For the meringue, pour 3cm water into a small saucepan and place on a medium heat. Put the egg whites, salt and sugar in the bowl of a standard mixer and place on top of the saucepan (the water must not touch the base of the bowl). Hand whisk constantly for 5-7 mins, until the meringue becomes pale and foamy. When the temperature reaches 71 degrees C, return the bowl to the mixer stand, add the vanilla paste, and whisk on a high speed for 5 mins, until the meringue stiffens and is cool to the touch. Spoon the meringue into an icing bag fitted with a 1cm round nozzle.

For the filling, cut both sides off 1 mango, scoop out the flesh (90-100g) and blitz to a smooth puree.

Beat the mango with the mascarpone, Passion fruit Curd and lime juice. Add more lime to taste.

Cut both sides off the second mango, remove the cheeks and slice finely.

Spread a layer of Passion Fruit Curd over the base of the tarts. Spoon in the passion fruit & mango mascarpone, and decorate with fans of the sliced mango. Pipe the meringue onto the tart and briefly blow torch to caramelise (or place under a very hot grill for a few seconds).

Sprinkle with the lime zest and physalis and serve straight away.