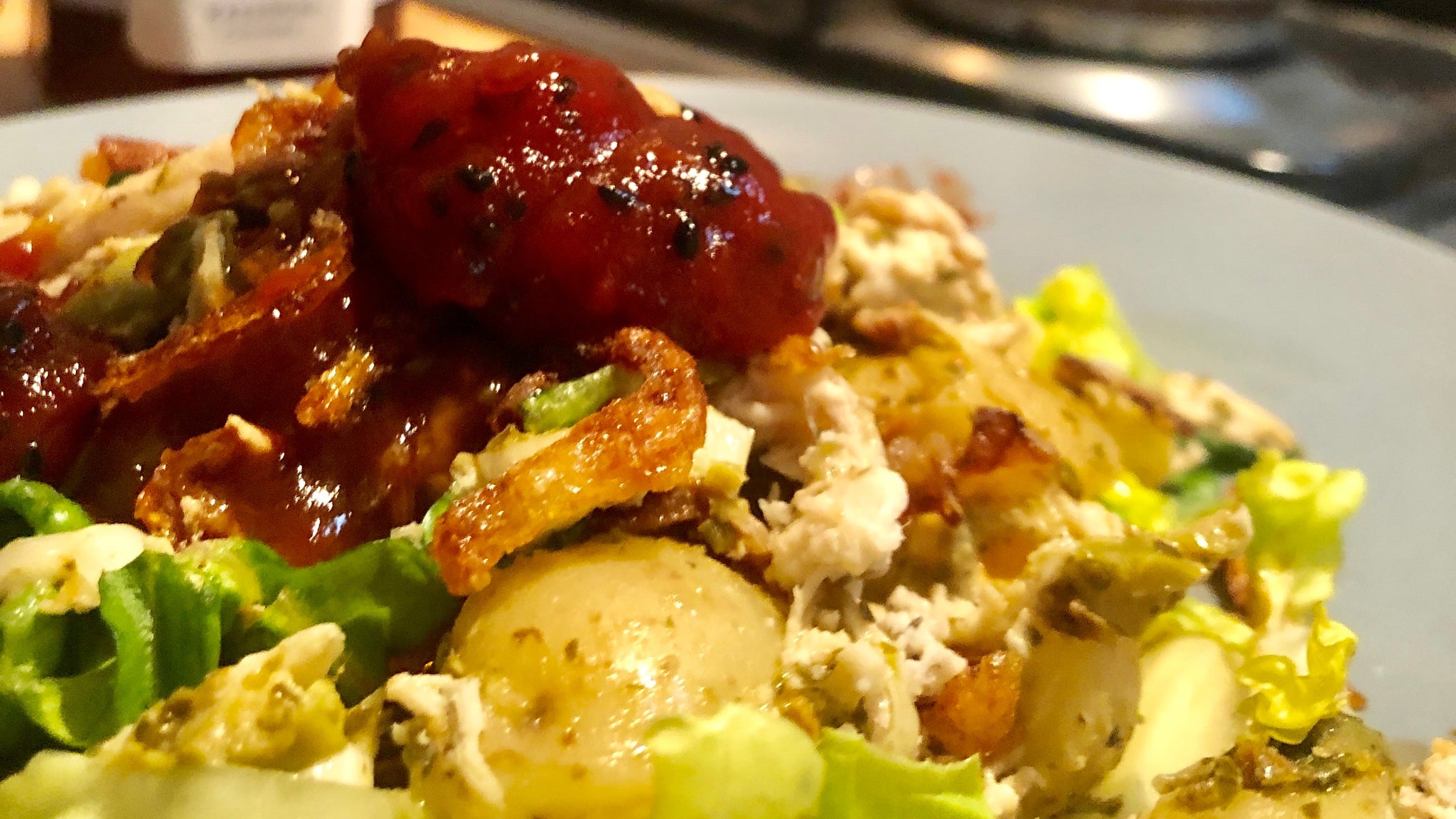 Pesto Chicken Potato Salad with Smokey Tomato Chutney & Crispy Onions
Ingredients
2 chicken breasts, seasoned

1½ avocados sliced

1 pack of new potatoes, quartered

½ jar of sundried tomatoes, drained and oil set aside for pesto

A handful of green olives, chopped

2 spring onions, finely sliced

2-3 tbsp of vegan mayonnaise

1 romaine lettuce, roughly chopped

Sea salt

Black pepper

Sprinkle of crispy onions

A squeeze of balsamic glaze
For the pesto: 
Either:
or from scratch
1 bunch of basil

2 clove of garlic

Handful of Parmesan

Handful of pine nuts

Oil from the jar of drained sundried tomatoes
For an equally tempting vegan option, leave out the chicken and parmesan, and top with sliced avocado.
Method
Preheat oven to 170°C. 

Wrap chicken in foil and bake for around 45 minutes, until cooked all the way through.

Add quartered potatoes to a pan of salted boiling water. Boil for 12-15 minutes until cooked but firm.

If making Pesto from scratch: In a blender add pine nuts, basil, Parmesan and garlic and blitz for around 10 seconds. Then, whilst still blitzing, slowly add just oil reserved from the sundried tomatoes. 

Drain the potatoes in a colander and run cold water through to stop the cooking process. Set aside in the fridge to cool. 

Add the pesto mixture to a large bowl and add the chopped sundried tomatoes, olives, and spring onions. Loosen with additional sundried tomato oil if required. 

Combine pesto mix and chilled potatoes and add mayonnaise and a grind of black pepper & salt if needed (the Parmesean usually means salt not needed) 

Chop or pull* cooked chicken and add to the pesto potato mix. 

Serve on a bed of romaine lettuce, top with a dollop of the Smokey Tomato & Garlic Chutney, crispy onions and balsamic glaze.  
* to pull the chicken, shred using two forks once tender. The slower the meat is cooked the easy this is to do.