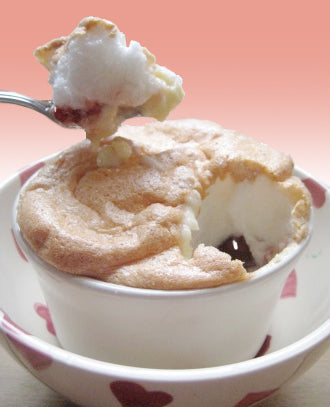 Ingredients
Butter for greasing

55g white breadcrumbs

300ml milk

2 egg yolks
Meringue:
2 egg whites

115g caster sugar
Method
For the bases, sprinkle the breadcrumbs between two ramekins. Mix the milk and egg yolk, then pour over the breadcrumbs.

Allow to stand for 5 minutes then place in the oven on Gas Mark 4 and bake for 25 minutes until just set.

Remove from the oven and leave to cool slightly before spreading with The Cherry Tree Raspberry Extra Jam.

Reduce the oven temperature to Gas Mark 3.

For the meringue whisk the egg whites until stiff and gently fold in the caster sugar.

Spoon on top of the pudding and place in the oven for 10-12 minutes until golden and set.