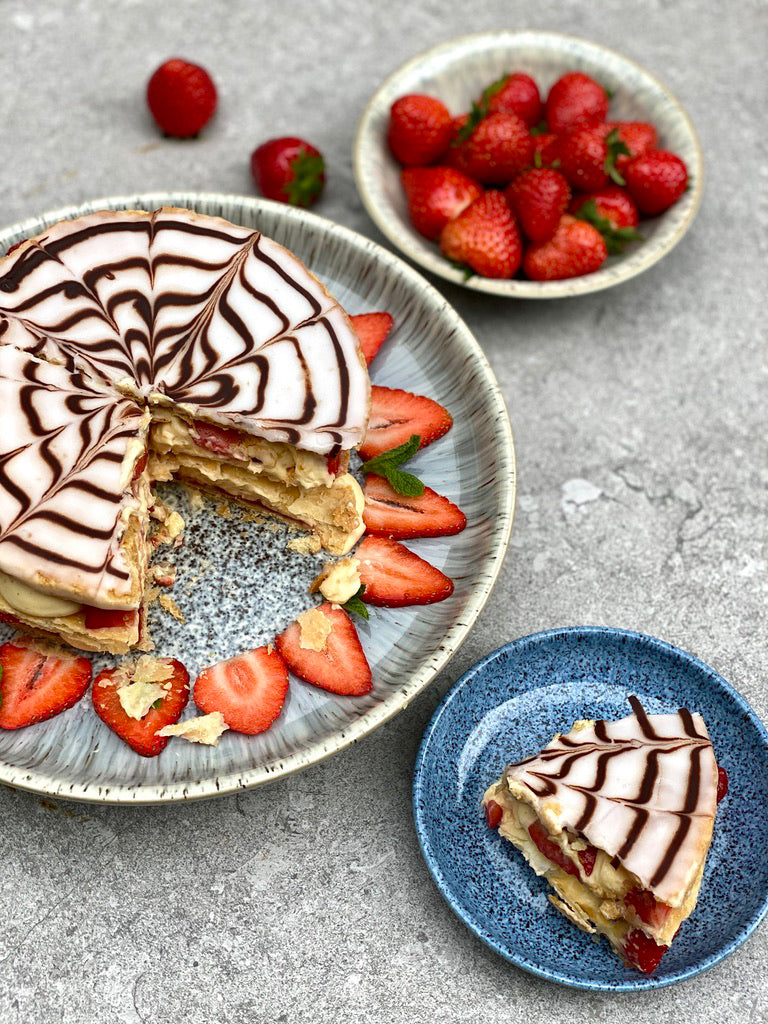 Strawberry Mille-Feuille with Vanilla Crème Pâtissière & Strawberry Jam
Ingredients
640g ready-rolled all-butter puff pastry

3 tbsp icing sugar
Crème pâtissière
290ml full fat milk

2 egg yolks

55g caster sugar

20g plain flour

20g cornflour

Seeds from 1 vanilla pod or 1 tsp vanilla paste

160ml double cream
Icing frosting
125g icing sugar

50g dark chocolate
Method
Caramelised pastry
Preheat the oven to 200°C/180°C fan.

Using a small side plate as a template, cut out three circles of pastry and place on a baking tray lined with baking parchment. Prick all over with a fork, dust generously with icing sugar, and cover with a second sheet of baking parchment. Weigh down with a second baking tray (to prevent them from rising), and bake in the oven for 20 minutes until golden. Remove and leave to cool on a wire rack.

When the pastry has cooled, use a grater to smooth the edges, if necessary.
Crème pâtissière
'Scald' the milk (heat to just below boiling) in a saucepan.

Mix together the eggs, sugar, flour and cornflour in a bowl. Slowly pour over the hot milk and whisk well.

Rinse out the saucepan, then return the eggy mix to the pan and bring to the boil, whisking constantly. The sauce will start to thicken. Cook for 1 minute, continuing to whisk vigorously, then pass through a sieve into a cold clean bowl. Stir in the vanilla, cover with greaseproof paper to prevent a skin forming, and leave to cool completely.

Whip the double cream to soft peaks. Beat the cold crème pâtissière with electric beaters, then add one-third of the double cream and continue to beat. Fold in the remaining double cream. Spoon into a piping bag and chill until ready to use.
Frosting
Make the frosting by combining icing sugar with 2-3 tbsp water (for a dripping consistency). Using a palette knife, spread the icing over one pastry layer (the lid). You can also pipe with melted chocolate and drag across a toothpick to create the stripey lid.
Assembly
Assemble the mille-feuille just before serving. Add a dot of cream to the serving plate to act as 'glue' and put a piece of pastry on top. Spread The Cherry Tree Strawberry Extra Jam over the bottom pastry layer, pipe blobs of crème pâtissière around the edge, then push the strawberries between the cream. Place the second pastry layer on top and repeat. Finish with a top layer of icing-coated pastry.