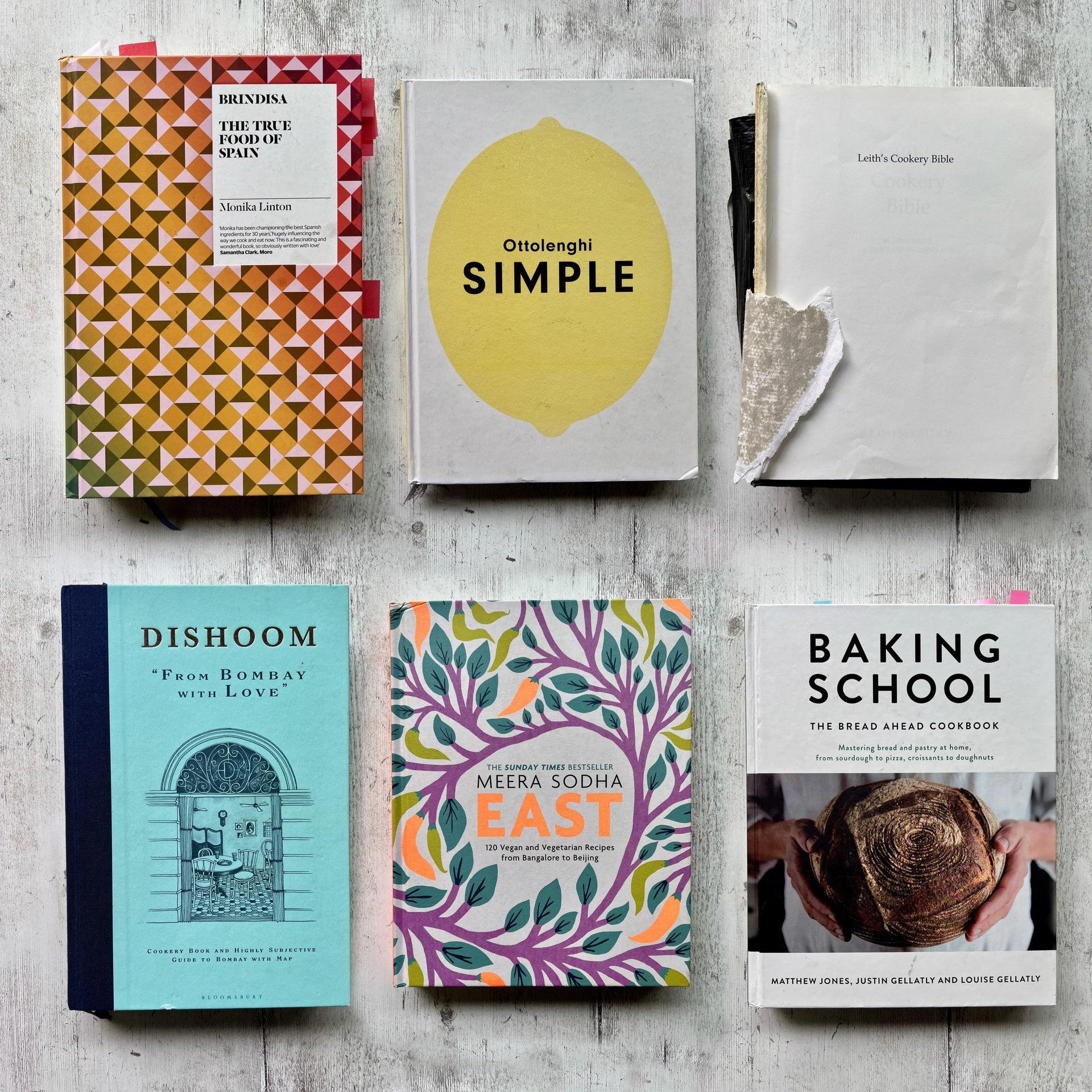 CRAZY WATER PICKLED LEMONS – Diana Henry Diana Henry had to feature. Any of her beautifully written books, with delicious, unpretentious food, would be perfect. I chose CRAZY WATER PICKLED LEMONS, not only because I love the title, but it reflects my love of recipes from the Middle East, Mediterranean and North Africa. Each section starts off with a mouth-watering description of what's to come. The book covers all manner of aromatic, colourful and perfumed ingredients – spices, barberries, pistachios, honey, sesame, orange blossom and pickled lemons. An oldie (bought just this week, second-hand), and an absolute keeper.

SIMPLE – Ottolenghi Well, Ottolenghi had to feature amongst my favourite cookbooks, didn't he? No surprises there, the question was, which one? The answer had to be SIMPLE, because it is (at least Ottolenghi-style), but still contains all the twists and turns we've come to expect. It also has the superpower to convert many a cauliflower hater.

EAST – Meera Sodha Inspired and delicious vegetarian and vegan recipes ranging from Bangalore to Beijing, that excite the palate and the eye. Meera creates beautiful and easy to cook recipes, and when you have a couple of random vegetables that need cooking, and need inspiration, it's the place to go.

BAKING SCHOOL – THE BREAD AHEAD COOKBOOK Every kitchen needs a copy of this iconic book, which leads both novice and experienced bakers through the range of breads, cakes and pastries available at Bread Ahead in Borough Market (and elsewhere). The book covers European and North American recipes, as well as their doughnuts, and if you want to understand sourdough, this is the place to start your journey.

DISHOOM – FROM BOMBAY WITH LOVE Dishoom − "the sound effect used in old Hindi movies when the hero lands a punch". A stunning book, full of beautiful maps, illustrations, photographs, and fabulous recipes. The authors lead you on a journey of dishes of Bombay that inspired their restaurant menu, from breakfast to mid-morning snacks, lunch, afternoon refreshments, first dinner, second dinner, third dinner, and finally to pudding and tipples. Do try the breakfast bacon naan rool, and the chicken ruby, a richly indulgent and exquisite recipe. Something that can be slowly and joyously prepared over a couple of days – not one to rush through. Just make enough to freeze the base sauce to make the process quicker the next time, because there will be.

BRINDISA – THE TRUE FOOD OF SPAIN – Monika Linton Because there's more to Spanish food than paella (not that any Spanish person can agree on exactly which ingredients can be included or the way to cook it). A giant of a cookery book, written by Monika, whose wealth of knowledge and understanding of the regional dishes of Spain shines through, and of which I know so little. I dive into this book regularly, to find out how to make the most of the beautiful Spanish ingredients that are available in the UK.

LEITH'S COOKERY BIBLE Another tome (similar to the Italian Silver Spoon), and appropriately named. Bought after I completed a series of evening classes at Leith's many years ago. It covers pretty much all aspects of British cookery. Something to be referred to, time and time again, so much so that mine has fallen apart, the spine broken and taped back together, with great sections spilling out. But replacing it with a shiny new copy would take away all those memories. On the downside, it's lacking photos, and the ones it does include are dated. Regardless, it's a very valuable addition to any home kitchen.
Thank you to Sophie Rushton-Smith @thecornerplot for these amazing cookbook suggestions!