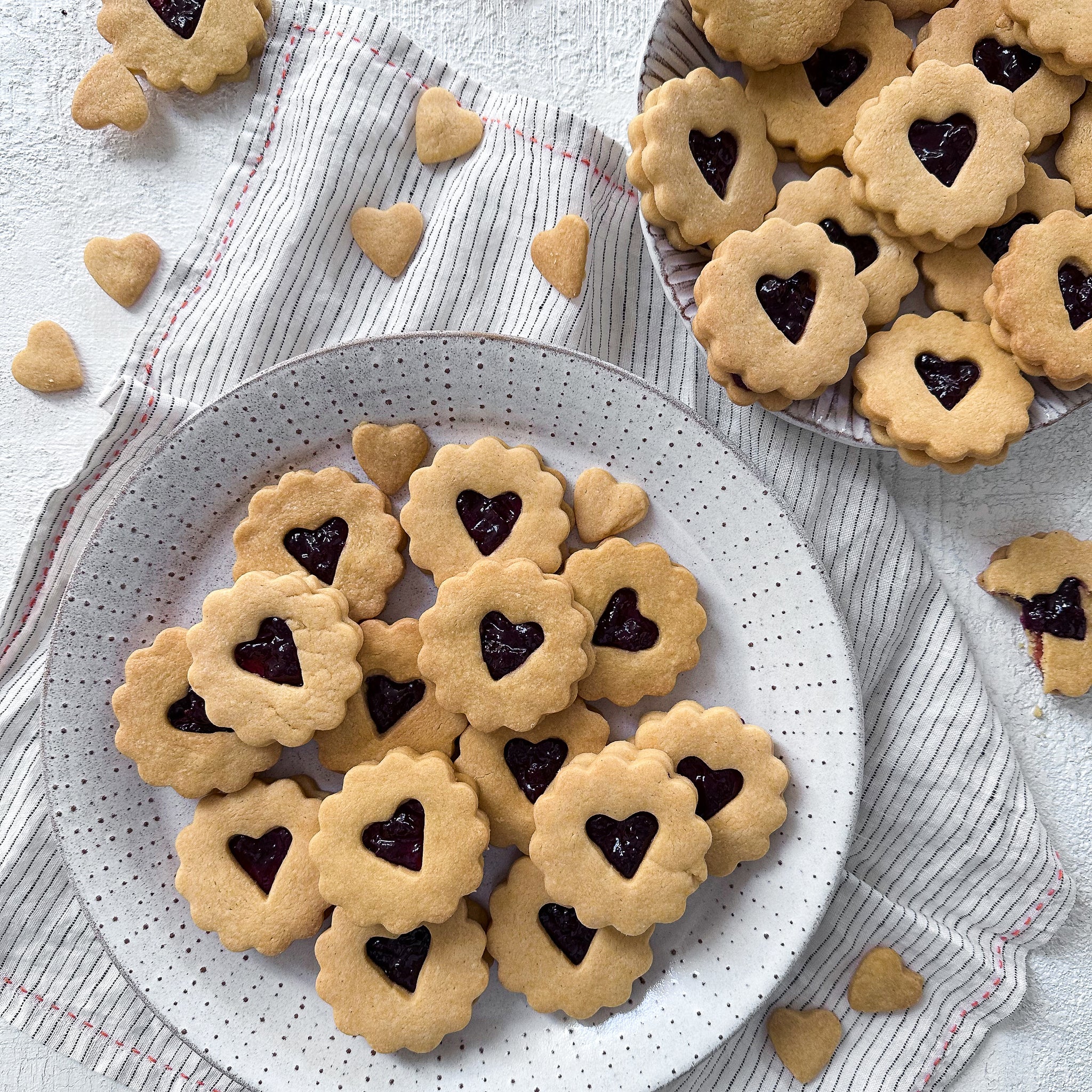 Valentine's Biscuits with Cherry Amaretto Jam
Ingredients
30 biscuits, depending on the size of your cutter
250g unsalted butter, at room temperature, cubed

280g @cotswoldflour Maizebite Golden Flour Mix

110g icing sugar

80g custard powder

Generous pinch of sea salt

2 tsp vanilla paste

2 free-range egg yolks
Heart-shaped cutter (or hand-shape)
Method
Place butter in the bowl of a standard mixer with the paddle inserted. Beat until the butter is creamy (1 to 2 minutes).

Sift the dry ingredients into a bowl, mix, then pour into the mixer bowl containing the whipped butter. Mix gently until the mixture forms a breadcrumb texture. Add the vanilla paste and egg yolks and mix briefly until the dough just comes together.

Turn the dough out onto a clean surface, form into a ball, cover with plastic wrap and refrigerate for 2 hours.

Preheat oven to 180ºC/160ºC fan.

Remove dough from the fridge and take off plastic wrap. Place on lightly floured clean surface. Roll out (one way, then rotate 90 degrees and roll again) to a thickness of 5mm. Sprinkle with a little flour and cut out the biscuits (half tops and half bottoms!). Place on parchment-lined baking sheets. Use smaller cutters for leftover dough.

Bake for 12 minutes until lightly golden, rotating the trays halfway through.

Remove from oven and leave to cool on a rack before filling with the jam.