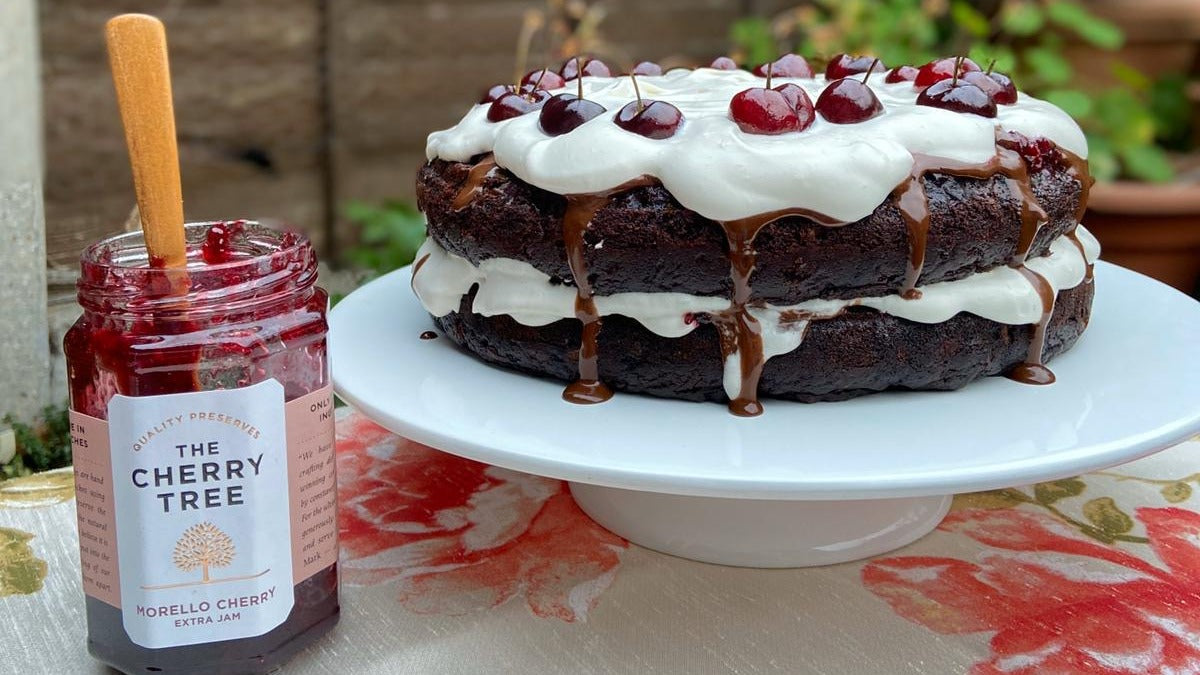 Vegan Black Forest Gâteau with Morello Cherry Jam
Ingredients
500g almond butter (you can use a different nut butter if you prefer) 

160ml maple syrup 

4 mashed bananas 

2 tsp vanilla extract 

120g cocoa powder 

2 tsp bicarbonate of soda 

4 tsp cinnamon 

½ tsp salt 

2 grated courgettes 

100g vegan dark chocolate 

450ml vegan double cream 

Fresh cherries to decorate 
Method
Preheat oven to 180°C/350°F/Gas Mark 6 

Grease two round cake tins with oil (coconut/olive). Line with baking paper 

In a bowl, mix together maple syrup, almond butter, mashed bananas and vanilla extract 

Stir in the cocoa powder, bicarbonate of soda, cinnamon and salt 

Fold in the grated courgette 

Pour the mixture evenly into the cake tins and bake at 30-35 minutes. Allow to cool completely before removing from the tins 

In a bowl, empty the jar of jam and add a splash of hot water to loosen the jam. 

Use a skewer to pierce the cake layers before pouring half of the jam over each layer. It may be best to do the second layer once it is on top of the first. 

Make the ganache by heating 150ml of the cream in a saucepan until very hot. Break the vegan chocolate up into small squares and place in a separate bowl. Pour the hot cream over the chocolate and stir until fully combined. Allow to cool for 10mins 

Spread the ganache over the cherry layer of the first cake layer – reserve half of the ganache to use on the top layer 

Whip the cream with a sprinkle of sugar and another ½ tsp vanilla extract 

Spread half of the whipped cream over the chocolate ganache on the first cake layer. 

Place the second cake layer on top repeat the process of adding the jam, ganache and cream.

Decorate the top of the cake with fresh cherries and grated chocolate. Enjoy!