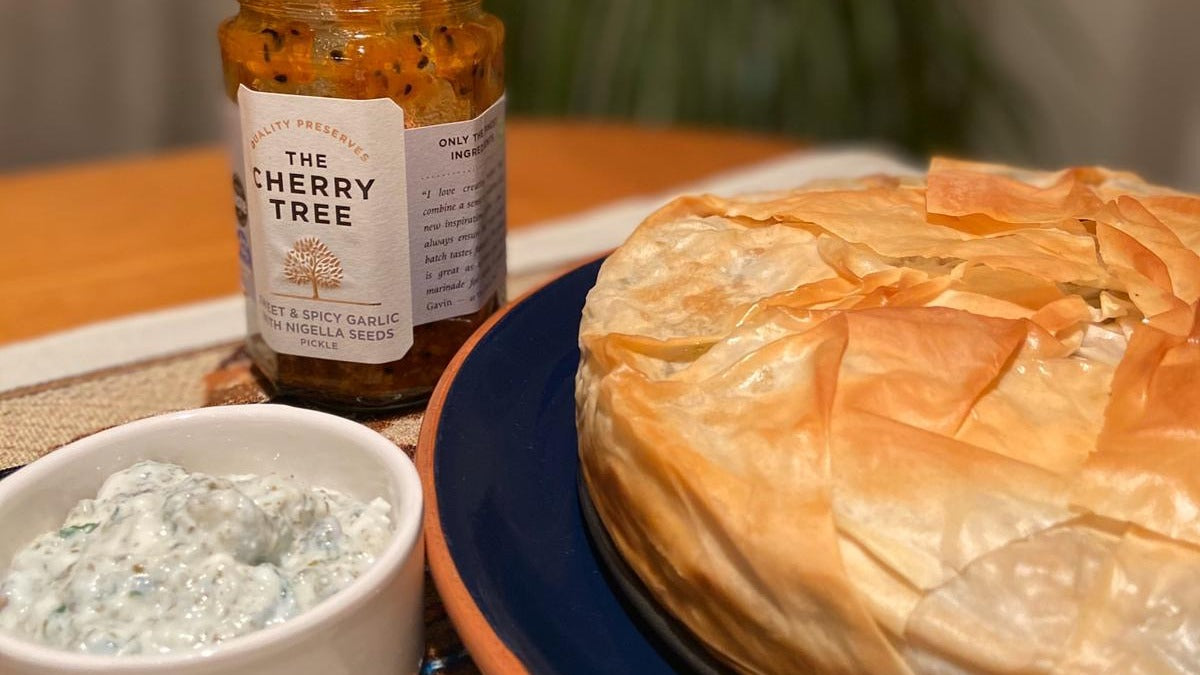 Vegan Indian Sweet Potato, Chickpea and Spinach Pie
Ingredients
4 tsp garam masala 

½ tbsp ground cumin 

1 tsp ground ginger

 ½ tsp turmeric 

1 white onion 

4-5 medium sized sweet potatoes 

1x can chickpeas 

250g bag spinach 

bunch of fresh coriander 

Olive oil 

Salt and pepper, to season 

8 sheets filo pastry 
Method
Preheat an oven to 180°C/350°F/Gas Mark 6. 

Peel and chop the sweet potatoes into small chunks. 

Boil in a saucepan for 10-15 mins until cooked through but firm. Drain and allow too cool.

Finely chop the white onion. 

Heat the oil in a saucepan and fry the spices to release the aromas. Add the white onion and cook until translucent 

If the spices are sticking to the pan, use a bit of the water from the chickpeas to deglaze the pan. Add the chickpeas and mix in. 

Add the spinach in batches until it is cooked through. 

Add the sweet potato and 3 tbsp of The Cherry Tree Sweet & Spicy Garlic with Nigella Seeds Pickle. Mix fully and allow to cool. Season with salt and pepper. 

Add the coriander and mix through. 

Grease and line a springform cake tin with oil. 

Layer the cake tin with filo pastry sheets, ensuring that you brush each one with oil so that they don't dry out. 

Layer the sheets by placing the first one over half of the cake tin (half of the filo sheet will hang out of the side of the tin) This is needed, so that you have excess pastry to form a lid. 

Work your way around the cake tin, layering filo all the way around so that you have a shell. Brush all the pastry with oil. 

Empty the sweet potato mix into the cake tin and even the top. Then, fold the excess filo from the outside in, so that all of the sweet potato mix is covered. 

Brush the top of the pie with more olive oil and bake for 30-40 minutes until golden brown. 
To Serve: 
Serve alongside natural yoghurt, mixed through with a spoonful of The Cherry Tree Green Chilli, Coriander & Mint Chutney – Enjoy!