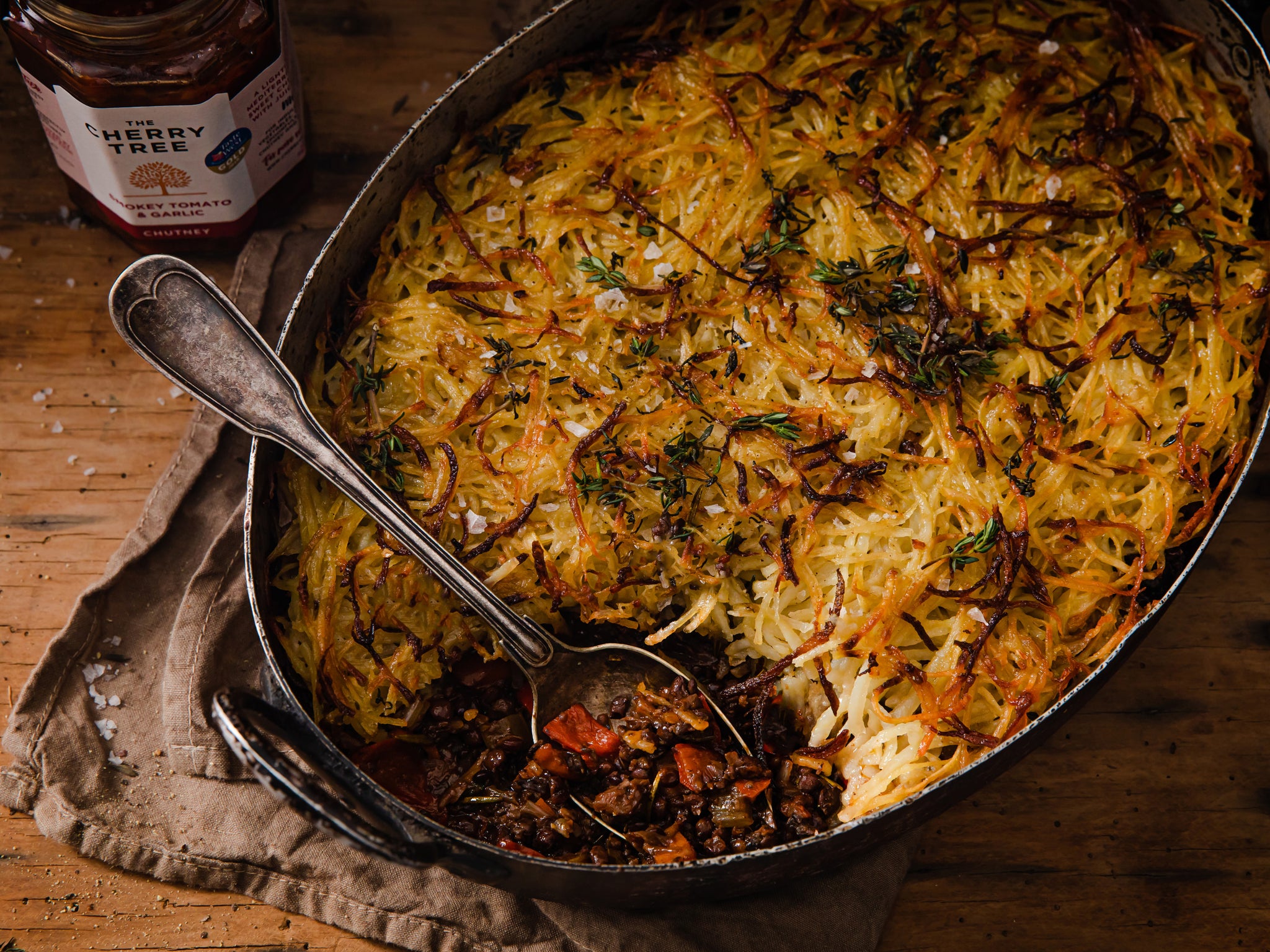 Vegan Smokey Tomato Shepherd's Pie
Ingredients
Base
2 tbsp extra virgin olive oil

1 small onion, finely diced (60g)

1 red bell pepper, diced into 1cm cubes (160g)

2 ribs celery, diced into 1cm cubes (100g)

2 carrots, diced into 1cm cubes (140g)

2 garlic cloves, minced

170g portobello mushrooms

150g wild mushrooms

2 bay leaves

1 tbsp fresh thyme, chopped

1 tbsp fresh rosemary, chopped

120ml vegan red wine

3 tbsp tomato purée

1 tsp flaked sea salt, or to taste

½ tsp cracked black pepper

250g cooked puy lentils
Rosti Topping
850g potatoes, peeled

1 small yellow onion (50g)

3 tbsp extra virgin olive oil

Good pinch of flaked sea salt

4 tbsp nutritional yeast

Optional fresh thyme leaves to serve
Method
Preheat the oven to 390ºF / 200ºC / 180ºC fan.
Base
Heat 2 tbsp of olive oil to a cast iron frying pan or oven safe dutch oven. Add the onion, peppers, celery, carrots and fry on a medium heat for about 5 minutes, stirring a couple of times, until soft. Add the garlic and fry for 1 further minute.

Whilst the carrot mix is cooking, prepare the mushrooms. Roughly chop and then pulse in a food process until chunky (not too fine so they turn to mush). Option to chop into small chunks with a sharp knife if you prefer.

Add the mushrooms to the carrot mix and cook everything for 2 further minutes.

Add the herbs, red wine, tomato purée, The Cherry Tree Smokey Tomato & Garlic Chutney and season. Bring to the boil then reduce to low and simmer for about 12 - 15 minutes, or until nice and thick. Add the lentils, warm through for about 1 minute and adjust the seasoning to taste.

Transfer to an oven safe baking dish (32 x 23 x 5cm).
Topping
Grate the potatoes and onion using a food processor, or a box grater if you prefer. Place on kitchen paper and press to absorb any excess moisture. Add the shredded potato mix to a mixing bowl, along with 2 tbsp of olive oil, a good pinch of salt and 4 tbsp of nutritional yeast. Toss with your hands to combine.

Spread the potato mix on top of the base and bake in the oven for about 35 - 40 minutes, or until the potatoes are golden on top. Brush with 1 tbsp of olive oil to serve and an optional sprinkling of fresh thyme leaves.