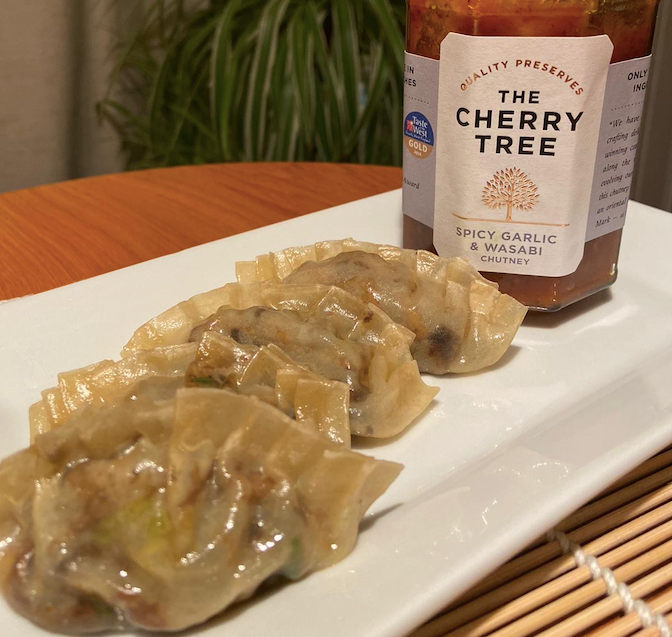 Ingredients
20-25 gyoza wrappers/dumpling skins 

King oyster mushrooms x 3 

250g chestnut mushrooms 

1 tbsp five spice 

3 spring onions 

Large bunch of chopped coriander 

2 tbsp white rice vinegar/mirin 

2 tbsp dark soy 

2 tbsp sesame oil 

Garlic, crushed 

Fresh ginger, thumb sized piece finely chopped 

Fresh red chilli, finely chopped (you can also use chilli flakes) 

Olive oil 

Salt and pepper for seasoning 
Method
Preheat an oven to 375°F/175°C/Gas Mark 5. 

Shred the king oyster mushrooms using two forks. Season with a drizzle of oil and the five spice. Bake for 30mins. Remove and allow to cool. 

Finely chop the chestnut mushrooms. 

Heat a frying pan before adding a small amount of olive oil. Add the mushrooms until the water from the mushrooms is released. Continue cooking until the water evaporates. Remove and allow to cool. 

In a bowl, mix the shredded king oyster mushrooms with the chestnut mushrooms.  

Chop the spring onions finely and add to the mushroom mix. Add the ginger, garlic, chilli (if using) and coriander. 

Season with salt and pepper and add the chutney, rice vinegar/mirin, dark soy and sesame oil. Mix through until fully combined. 

Take a gyoza wrapper and place a teaspoon of the mixture in the middle. 

Wet your finger and run it round the edge of the wrapper. 

Fold the wrapper over so that it forms a semi-circle shape. 

Press the edges together and pleat them to form a gyoza shape. 

Heat a frying pan with a drizzle of olive oil. 

Place as many gyozas in the pan that will fit and fry for 1-2 minutes until the bottom is golden and crispy. 

Add 150ml of water to the pan and place a lid on the top so that the gyozas steam for a couple of minutes. 

Remove from the pan and serve alongside dark soy, teriyaki dipping sauce and more of The Cherry Tree Spicy Garlic and Wasabi Chutney. Enjoy!